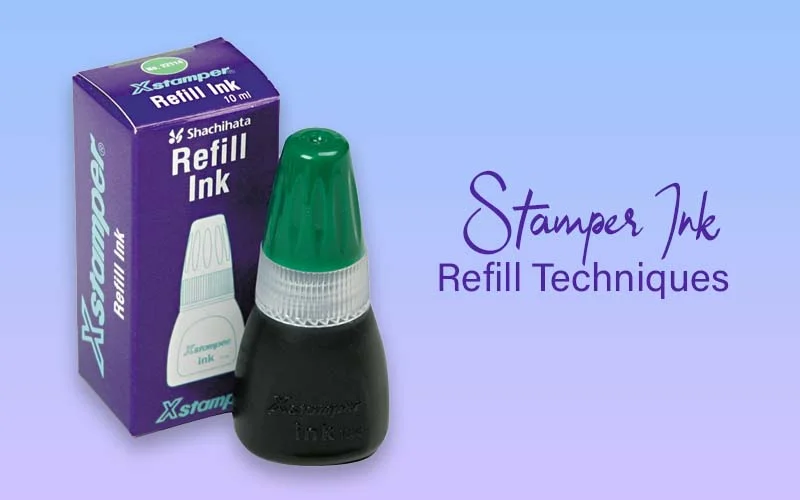 Are you tired of constantly buying new ink pads for your stamper ink refill? Do you feel guilty about the waste generated by these disposable products? If so, we've got great news for you! We'll discuss some quick and affordable ways to refill your stamper ink in this blog post. This will not only save you money over time, but it is also a waste-reduction strategy that is kind to the environment. So let's get going and learn how to protect our stampers' well-being and environmental responsibilities!
How to refill ink stamper?
You may get stamper ink refills in a variety of ways that will save you money and cut down on waste. To get you started, consider these suggestions:
Check your local store or the Internet for bulk ink refills. While some retailers sell bulk refills in particular colors or kinds, others provide refill kits that enable you to refill individual ink cartridges. Many online retailers also offer these refills, and some even have interactive tutorials on how to refill your ink stamper using these kits.

Use recycled or reusable containers to store your refill supplies. Tin cans, coffee cups, and other small containers make great storage for your refilled cartridges, as they can easily be stacked on top of each other when not in use. Plus, this type of storage allows you to reap the environmental benefits of reducing waste while also saving money on your ink cartridge needs!

Stamper ink should be refilled with bottled fountain pen inks if possible. Many fountain pen manufacturers offer bottles of their ink that can be used with a variety of fountain pens, including ink stamper refills! This means that you won't need to buy multiple bottles of different inks just for use with an ink stamper—one bottle will do the job for many different pens!
Recommendations for Stampers
Use stampers that have a built-in ink pad reservoir.

Try using stamping blocks instead of stamps. Stampers come with a variety of sponge-like blocks that help to create intricate designs and patterns on paper.

Store stamps in a cool, dry place (preferably in an airtight container). Stamps will last longer this way and won't clog up your stamping tool as easily.

Clean your stamps regularly—use a stamp cleaner or soap and water—to prevent them from clogging up and becoming unusable.

Be selective with what you stamp. Only use stamps on materials that will be safe to ink and leave behind (ink is permanent!).
How to Save Money with Stamper Ink?
Stamper ink is a versatile medium that can be used to create a variety of images. In order to save money and reduce waste, follow these easy refill techniques.
Trial and error: first, try out different stamping techniques on some scrap paper to see what you like best. This will help you find the stamping methods that work best for you and your projects.
Reuse: when you run out of stamp ink, don't feel guilty about reusing old stamps. Simply wash them off with soap and water, and then dry them off before using them again.
Shop secondhand: if you can't find the stamp ink or stamps that you're looking for at your local store, check online auctions or classifieds websites. You might be surprised at how much stamp ink and other supplies you can find for a fraction of the cost!
Tips for Reducing Waste With Stamper Ink
A common sort of refill for pens and other writing tools is stamper ink. Although refills can be pricey, they are simple to purchase. There are many ways to reduce waste when using stamper ink. The first step is to refrain from buying refills that won't work with your pen or other writing instrument. Knowing what kind of refill your pen needs is essential before buying one because different pens require different kinds of refills.
Another way to save money on stamp ink is to simply use what is required. If you don't use the entire refill, store the remainder in a jar or other container and preserve it in a cold, dry place. By doing this, you can save money by not purchasing refills that you won't use. Finally, be sure to clean your pen and paper after using stamper ink so that the ink doesn't smudge or build up over time.
Stamper ink refill: tips and tricks for success
Inkjet printers can be refilled with your own ink using a few simple techniques. Both money and waste can be saved by doing this. Before you start, make sure your printer has been well cleaned and that the ink in its cartridges is brand new. If the cartridges are not all full, the printer won't recognize them as refilled.
Open your printer and remove the old cartridge if it utilizes refillable ones. After using the original cartridge, remove any plastic or paper bits that might have remained. Put the brand-new cartridge into the printer. Close the original cartridge cover and replace any missing screws or nuts. Your printer should now be on and printing a test page. Your replacement cartridge should now be printing successfully if everything was done correctly.